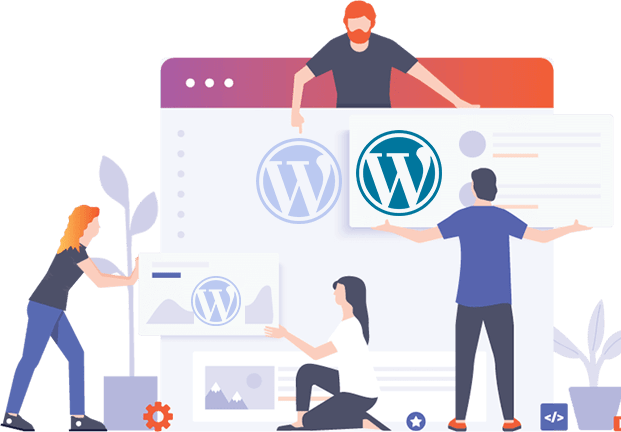 Why a WordPress Maintenance Plan?
You have a WordPress site and everything works for the best. We are delighted. But have you asked yourself the question of the security of this one? Indeed, regularly, and in order to resolve security problems, fix bugs and / or add new features, new updates are necessary both at the level of WordPress and at the level of the various extensions (plugins) installed and the theme.
WordPress Maintenance
Get a free month with the yearly plan
Outsourced backups: files and database

WordPress core updates

Theme updates

Plugin updates

Testing site integrity after updates

Deleting spam and revisions

Safety and performance report

Webmastering: posting of your content (text, images, videos …), within the limit of one article per week

Monthly report of tasks performed

Support by email
Right now, keep the wolf from the door and dedicate yourself entirely to your core business by entrusting us with the management and maintenance of your WordPress website:
an unique and complete offer: maintaining websites is tedious and technical so let us do it for you,
the security: the Internet can be a dangerous place, so let us protect your website,
peace of mind: staying on top of the latest updates and security warnings is a job for a professional.
WordPress maintenance and what our customers are saying
" Nous travaillons ensemble maintenant depuis quelques années, ils s'occupent de mon site depuis sa création, ils ont même eux l'occasion de travailler sur sa refonte. En quelques mots ils sont pro, à l'écoute, réactifs et toujours là à donner de bons conseils et orienter sur ce qu'il y'a de mieux pour notre site marchand. Je vous le conseille fortement pour la maintenance de votre site, la création ou bien une refonte. "
" Je suis très satisfaite de la maintenance et professionnalisme de Webpixelia vraiment, le sérieux et la rapidité de la réponse à mes questions, je le recommande vivement et j'attribue 5 étoiles en plus de la qualité prix y'a rien à dire. "
" Webpixelia est disponible et réactif aux demandes, la maintenance du site et la correction de certains points sont satisfaisant, le sérieux et le professionnalisme sont permanent. Son approche vous inspirent entièrement confiance en son travail et sur la préservation de vos données personnelles.
Je vous le recommande sans hésitation. "
WP maintenance; user manual
How do we manage your website?
1st step
Upon receipt of payment, you will receive a confirmation email and a customer account will be created.
You will have to open a ticket in your account to give us safely all the basic information: FTP, MySQL / PhpMyAdmin, SSH, hosting panel and/or admin WordPress.
2nd step
An initial audit is conduct in order to make an inventory of your website and we estimate the possible requests of intervention to which you already think.
3rd step
We send you a first report, including the health status of your website and our first interventions.
Then each month, a report informs you of all actions on your site.
How many sites can I add to my plan?
Each plan is valid for a single site. To add a site, just take an other plan.
I have several sites, can I get a discount?
Can I stop my subscription when I want?
Yes, you can stop our maintenance offer whenever you want, the debits will be automatically stopped. Annual payments, on the other hand, will not be refunded on a pro rata basis.
What are my guarantees about your maintenance service?
Every month we send you a detailed report of our interventions. We impose on ourselves a total transparency with our customers; reason why as a support has been put in place.
What are the support hours?
We are available to answer all your questions throughout the week from 9am to 6pm except Friday and Sunday.
What happens if my site gets hacked?
If it was not protected by our maintenance offer, we propose, after an audit, a quote to clean it before including it in our offer. If you benefit from our service and your website is attacked anyway , we take care of the restoration of your website.
What will happen if an update degrades my site?
First, using a backup, we put your site back in working order. Our preliminary audit normally avoids this situation, but if this is the case, we take over the restoration of your website and make the necessary corrections.
Can I change my plan when I want?
You can change your monthly plan for an annual plan whenever you want. However, you can not return to a monthly plan during your annual commitment.
Where are you located?
Our offices are located in Fes, Morocco.
Do you work with agencies ?
I have specific requests; what to do?
Our experts will be happy to answer you. Do not hesitate to contact us.